SENIOR INSTURCTORS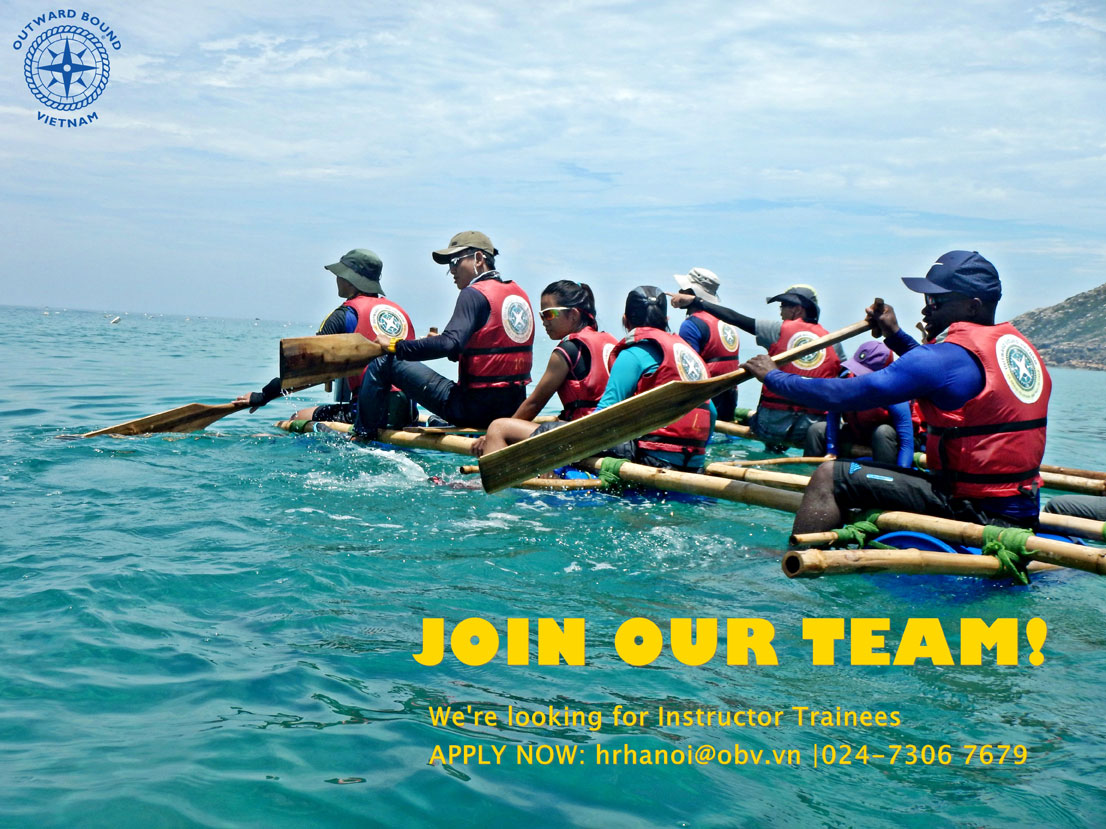 Outward Bound Vietnam (OBV) has been operating since November 2016. It is a member of the global community of Outward Bound schools and operates year-round from two locations in Vietnam. An experienced international team of staff is spearheading Outward Bound Vietnam as we build local capacity. Our main clients are school groups and we are now seeking to expand into periodic corporate programs. 
Job Summary
We are looking for two permanent senior instructors to be based in the coastal city of Quy Nhon. Your ideal profile includes great abilities as a facilitator, corporate programming experience, a range of outdoor qualifications, and you are a sea kayaker who is comfortable in a rapidly developing country in Asia. As we continue to build capacity, lots of mentoring of junior instructors are needed, so you would value feedback and have the ability to communicate positively across cultures. We prefer candidates with previous Outward Bound experience.
We deliver both residential and expedition-style, outcome-focused programs. Our programs are 4-10 days long. Vietnam is a vibrant and rapidly developing country with nearly 100 million citizens. OBV is still building capacity, so there is plenty of opportunity for delivering staff training, exploration, and development of new sites, activities, and areas.
Responsibilities (including but not limited to): 
Work with co-instructor to design and implement outcome-focused courses
Maintain physical and emotional safety of students and co-instructor during the course
Passionately mentor junior instructors and support in their growth
Oversee kayak programs as an activity expert in this discipline
Conduct staff training, which may include high ropes, climbing, sea-kayaking, powerboat operator, off-track navigation, risk management, facilitation skills, etc.
Contribute to new area reconnaissance and development when no programs are running
Ability to complete all paperwork and administration
Previous Experience: 
Experience with corporate program design and delivery
Has worked as an instructor at other Outward Bound schools
Experience leading school students on overnight expeditions
Extended sea-kayaking experience
Powerboat operator
Multi-day backpacking experience on uneven terrain
Experience in high ropes, navigation, rock climbing
Essential Qualifications:
ACA/BCU sea-kayaking certification (coach/instructor)
Current Wilderness Advanced First Aid
Lifesaving qualification / Bronze Medallion
Speedboat driving experience (qualification preferred)
ACCT Level 2 ropes course certification, or equivalent
Police clearance
Must clear a Vietnamese immigration health check
And a great personality
Desirable Qualification:
Swimming coach experience
Duke of Edinburgh International Award experience
LNT Master Educator
Degree in Outdoor Education or similar field
Driving License / Motorbike License
Living or working experience in Asia or tropical climates
Compensation and Benefits:
Competitive pay based on experience and qualifications
Monthly salary for 24 months
Healthcare Plan
Reimbursement of flight
Accommodation in company facilities
Date:
Commence July/August 2021
Full-time job
Contract period minimum of 2 years
A note about COVID as of January 2021: Vietnam has managed this pandemic extremely well, with excellent testing and tracing, and long periods with no community transmission. As of January 2021, there has been in total approximately 1500 cases and 35 fatalities. Domestic travel has been unrestricted for almost all of 2020 and life has largely resumed back to normal, however international borders have a 14 day quarantine. To prevent the virus, it is difficult to obtain re-entry permits, and until further notice, once inside Vietnam there is little chance of a quick exit and reentry.
Apply:
Please email your Resume, Cover Letter, and Logbook to hrhanoi@obv.vn
Website: