Leave No Trace is a non-profit organization providing Leave No Trace programs, education, training and outreach in all 50 states and more than 100 countries around the globe. Utilizing the power of science, education for all, and stewardship to support and protect nature, Leave No Trace is on a mission to ensure a sustainable future for the outdoors and the planet.'
At Leave No Trace, there is no substitute for nature. From neighbourhood walks to backcountry treks, the outdoors is for everyone. But it all has an impact. More use, overuse, trash, endangered wildlife and around it all: climate change. Leave No Trace empowers people to be the solution to conservation. Through pioneering science, sustaining partnership, and activating our proven training and education systems, Leave No Trace leads the way. No matter where or why you get outside, it's yours to protect. Leave No Trace.

LEAVE NO TRACE SEVEN PRINCIPLES
Plan Ahead and Prepare
Travel and Camp on Durable Surfaces
Dispose of Waste Properly
Leave What You Find
Minimize Campfire Impacts
Respect Wildlife
Be Considerate of Other Visitors
© Leave No Trace: www.LNT.org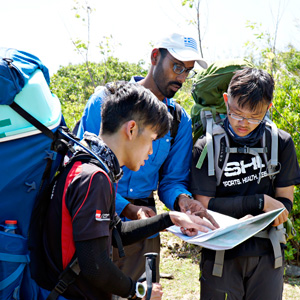 LEAVE NO TRACE AWARENESS WORKSHOPS 
Awareness workshops are a great introduction to the Leave No Trace principles and create awareness on minimum impact skills and ethics. These are typically 2-4 hours in length and can be up to a full day. Participants will receive the certificate of completion from the Leave No Trace Centre of Outdoor Ethics. 

LEAVE NO TRACE TRAINER COURSE 
Nine out of ten people who visit the outdoors are uninformed about Leave No Trace and minimizing the impact on the environment. Leave No Trace training is helping to instil an outdoor ethic in all those who enjoy spending time outside. 
Participants in the two-day Trainer Course learn Leave No Trace skills and ethics as well as techniques for educating others about these low impact practices. Trainer Courses typically take place over two consecutive days and involve spending more than half of the course outdoors. Graduates of a Trainer Course are prepared to offer Leave No Trace Awareness Workshops to their community. Research has shown that this course significantly improves participant knowledge and understanding of how Leave No Trace protects the outdoor places we love. 
Leave No Trace Master Educators will deliver the course. Each participant is assigned a Leave No Trace topic and asked to prepare a short presentation (15 -20 minutes) for their peers.  Upon completion, participants will be certified Leave No Trace Trainers and can conduct Leave No Trace Awareness workshops for others to promote outdoor ethics.