YOUNG EXPLORERS OPEN ENROLMENT PROGRAM AGE: 11-14
LEARNING OUTCOMES
Personal Development Outcomes
Personal Responsibility
The course will contribute to the students' ability to be responsible, answerable, or accountable for actions and consequences within their power or control; to maintain personal motivation levels; increased ability to complete tasks on their own.
Self-Reliance
The program will contribute to increased trust in own efforts and abilities.
Environment
Respect for the Environment
The program will contribute to increased knowledge, understanding and enjoyment of the natural environment; concern for protecting the natural environment.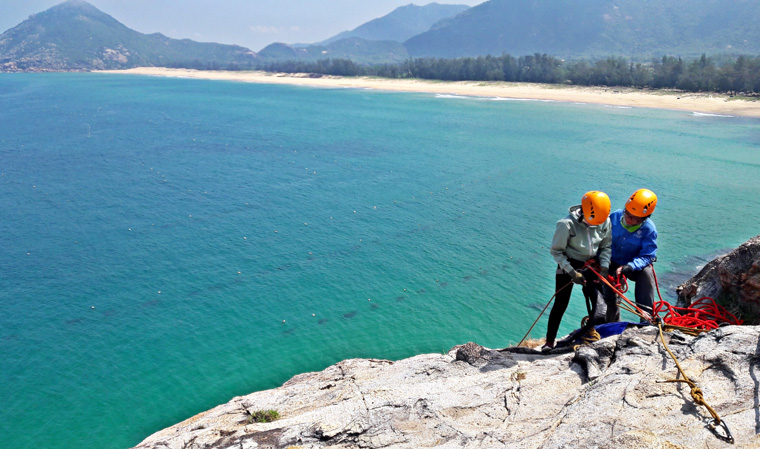 The Young Explorers course will be a 5-day residential experience for the students staying in dormitories, with 1 night camping in a safe and secure campsite (note that camping is weather dependant). All the course activities will be conducted in a group, and there are wonderful opportunities for learning valuable socialization skills and meeting other kids. This is a fun and positive camp experience over school holiday periods and the students will be introduced to enironmental awareness activities via the Leave No Trace ethics – a set of principles, promoting minimum impact on the outdoors through engaging ativities. After practicing those positive behaviours in nature, the students will have a chance to become Leave No Trace ambassadors.


SAMPLE PROGRAM
Day 1
Day 2
Day 3
Day 4
Day 5
Morning
Icebreakers
Intro. to OB
Day Trip: Hiking
Adventure Cave Exploration (Halong) /

Rock Wall climbing (Binh Dinh)

Day Trip:
Hiking or Kayaking
Final Review
Transfer & Action Plans
Cleaning & Showers
Lunch
Canteen
Packed Lunch
Pack Lunch
Packed Lunch
Canteen
Afternoon
Team Initiatives
Soft-Skills Workshop
Bushcraft
Eco-Literacy: Mapping of Human Influence on the Environment
Raft – BuildingEco-Literacy: Local Farming Practices – Rice Farming
Orienteering Back to Base
Travel Home
Dinner
Canteen
Canteen
Camsite
Canteen
Evening
Expectations
Campfire
Evening Group Work
Star-Gazing / Star Charts
Group Theatre Performance / Evening Skits / Theatre-Sports
Sleeping
Dorms
Dorm
Camping near Beach
Dorm