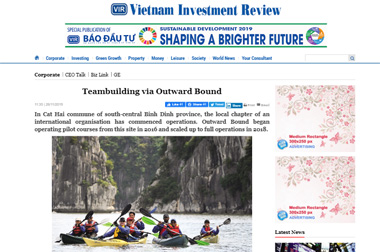 In the commune of Cat Hai, Tan Thanh District, Binh Dinh province, the local chapter of an international organisation has commenced operations. Outward Bound began operating pilot courses from this site in 2016 and scaled up to full operations in 2018.
Outward Bound exists to unlock human potential. It provides short-term team building and leadership courses to foster values and strengthen life-skills. These courses use adventurous outdoor activities such as sea kayaking and rock climbing to help individuals and teams improve these skills. Outward Bound is the trademark name of a unique educational enterprise.  It is also a vivid seafaring metaphor suggesting a journey into a wider world.  Each year about 250,000 people complete an Outward Bound course around the world making it the largest and most established teambuilding organization globally, operating in over 30 countries and with a total turnover of over $USD100 million per year.
In Vietnam, Outward Bound is a registered social enterprise and to date, about 1500 people have completed a course. People have come from all over Vietnam as well as internationally from as far as Singapore to the site, as it is located a short 20 minutes from Quy Nhon airport, allowing for easy access.
Outward Bound Vietnam operates from a purpose-built coastal centre, including 100 dormitory-style beds for residential training as well as a large hall with an indoor climbing gym and ropes course. The location also maximises opportunities for engaging with sea kayaking and ocean activities, making it an ideal destination for schools and companies looking at teambuilding retreats.
A team of international staff from the Outward Bound community have been recruited to establish operations, and several cohorts of local instructors have been recruited, who undergo a year-long training program as part of their job. This training includes hard skills such as sea kayaking, rock climbing and hiking, as well as soft skills such as leadership and teambuilding theory. There is international training courses, such as wilderness first aid training, with the trainer coming in from the USA specifically to provide this training, and these local instructors also learn how to swim, as they must complete a lifesaving certificate too.
Outward Bound courses provide a real and tangible classroom to develop the leaders of tomorrow, which is more vital than ever in the rapidly expanding business and educational environment in Vietnam. Outward Bound Vietnam provides a separate range of courses for schools and businesses. Professional courses focus extensively on skills vital but usually neglected in the workplace and in business school, including workplace communication, working cooperatively and collaboratively in teams and leadership. School courses include building resilience and perseverance, vital for success in school, confidence-building, practice in skills such as public speaking and environmental care,  and ensuring care and compassion for others.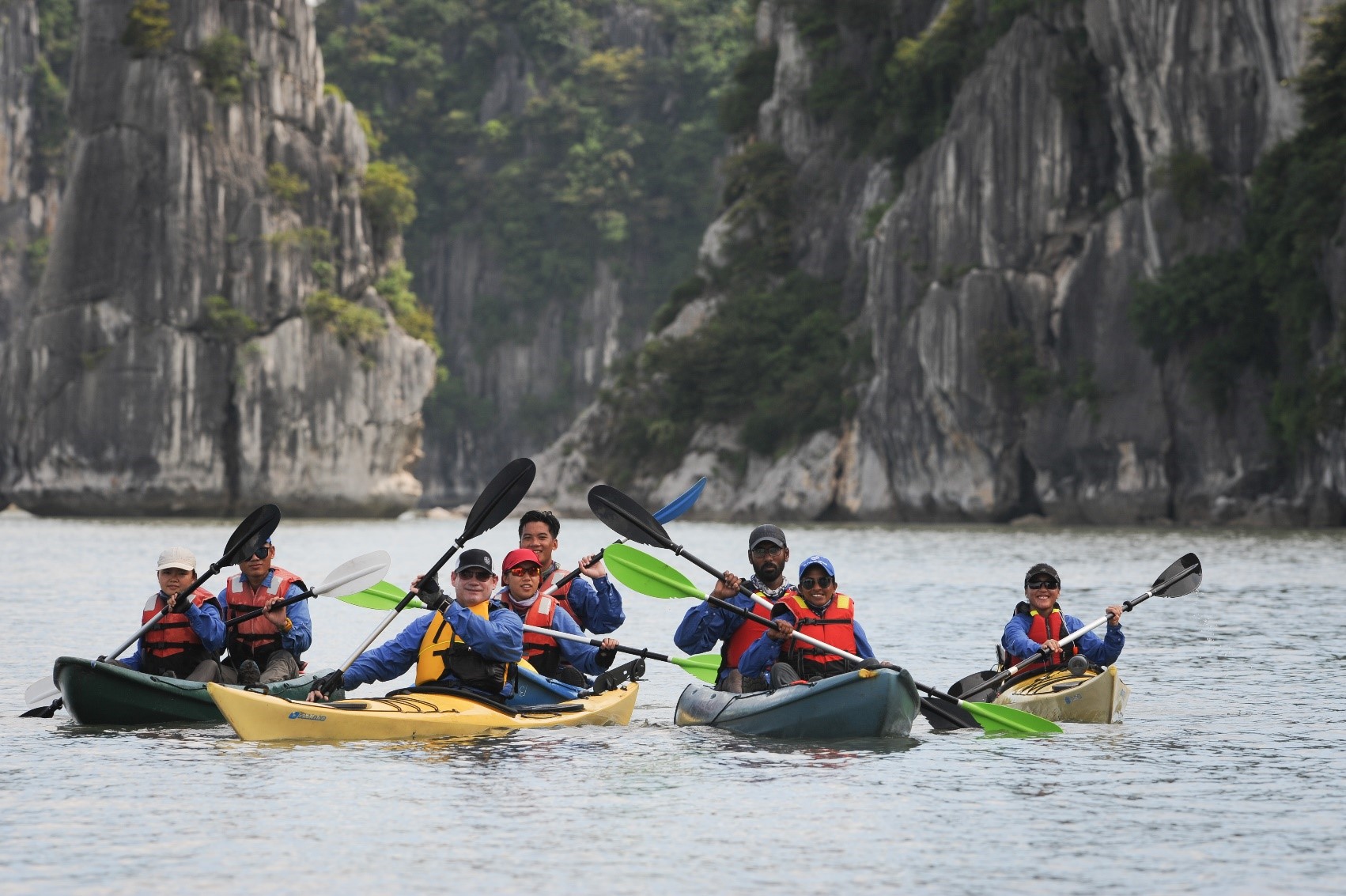 By joining an Outward Bound Vietnam program, people are not only talking about theory but are also provided with opportunities to actively test their leadership, resilience and cooperation ability. Outward Bound Vietnam courses are unique because people will be experiencing challenging, specialised leadership and team-building programs in stunning natural training environments. Teams are not forced to undertake any challenge they feel is entirely beyond their capacity and techniques such as 'challenge by choice' to reiterate this. Instead, teams are impelled into value shaping experiences; and this is facilitated via developing 'full value' contracts of engagement with teams early in the process. The teaching approach on courses is supportive and uses 'experiential learning. By this, Outward Bound Vietnam is distinctly different from boot camp training programs.
The participant works in a team of between eight and 14 diverse individuals, and Outward Bound still relies on methods of training that emphasise the development of self-reliance and strength of character as its main purpose.  To this end, the courses start at basecamp and move out often on a short expedition which is designed to place each team in control of finding their own route. It has been with some entertainment that some local farmers and villagers have seen groups walking up and down beaches, and past farms while looking for a certain path to their next destination.
Over the past seventy-five years, thousands of schools and businesses across the globe have used Outward Bound corporate programs to help them develop high-performing teams. Gordon French, former director of organizational development at Cox Communications, stated that "if workplace leaders want great financial skills, they should go to Wharton Business School at the University of Pennsylvania; if they want to learn about business theory, they should go to Harvard Business School; but if they want to develop a great leadership and team skills, nothing has the impact of an Outward Bound expedition, wherein three or four days they begin the transformation from being managers to becoming leaders."
Moving into 2020, with an ambitious investment strategy and passionate staff, Outward Bound Vietnam promises to be a new and exciting destination where teams can unleash their potential and return to the workplace invigorated and inspired.
=> Journal in The Vietnam Investment Review: https://www.vir.com.vn/teambuilding-via-outward-bound-72065.html?fbclid=IwAR3NhBOeliTyPF-407yPp5T1nDdibJaBhVGWIMn60dOwlovvs_W5C2QsmiQ
Related Posts